What affiliate programs should a blogger really join?. Not every merchant is willing to give big bonuses and recurring commission to its affiliates.
Which is the actual "passive income". Refer a customer once and keep on generating revenue for months and even years after that.
But how do you generate passive income? What are the affiliate programs that pay every month?
The SaaS and Membership affiliate programs. 
Any software as a service [SaaS] is mostly sold on subscription plans. So, this helps the membership-based products and SaaS affiliate managers to pay recurring commissions to their affiliates.
This means the customer you refer to them will keep you generating money every month after the first month for as long as they keep their subscription active.
And in this post, I'll tell about 7 of the affiliate programs which pay recurring commissions. Ready to make real passive income.?
Let's start with the first one…
1. NinjaOutreach Affiliate Program
NinjaOutreach is an influencer marketing and blogger outreach software.
This is an all in one marketing and outreach software which you can recommend to any internet marketing, email marketing, blogging and SEO targeted audience.
What makes it easier to sell is its pricing and performance. It is one of the most cost-effective influencer outreach tools so most of the time NinjaOutreach should sell itself.
There are two products for you to refer to your visitors, the first ones the base NinjaOutreach software and second is the courses. Ninja Academy is also included in their affiliate programs which is their educational course.
NinjaOutreach pays 20% recurring commissions for both NinjaOureach software and Ninja Academy courses sales. The payouts are made every month and you get paid via PayPal.
Join NinjaOutreach Affiliate Program
2. SamCart Affiliate Program
SamCart is an all in one tool to sell a product online. From payment gateways, product management, affiliate relations, sales tracking, email marketing and subscriptions, SamCart supports everything.
SamCart has an awesome affiliate program if you want to make serious money from a single sale. From each sale, you refer you can make up to 40% as commissions and monthly recurring revenue.
You'll also get to connect with a dedicated affiliate manager to help you make most out of your affiliate partnership.
Join SamCart affiliate program
3. ConvertKit Email Marketing Affiliate Program
ConvertKit is an amazing email marketing and drip automation tool. It makes list building and management very easy for bloggers as it was created by a blogger.
While ConvertKit has amazing services, it also has an affiliate program powered by Ambassador. ConvertKit affiliates get 30% recurring commissions on each sale made.
You will be paid every week and payouts are made via PayPal. Since it is powered by Ambassador you also get short links and memorable URLs with updated assets features.
4. Thrive Themes Affiliate Program
Thrive Themes is a collection of conversion-focused WordPress plugins. It includes landing pages, lead generation plugin and more.
Thrive Themes have an affiliate program where you get 35% commissions on primary sales and then 20% recurring commissions. Thrive Themes have built trust among bloggers especially in the marketing niche.
You will get access to promotional banners and a dedicated affiliate manager on board as well.
It should be easy for you to sell Thrive plugins and make money from it. You will be paid via PayPal as soon as you generate $20 in affiliate commissions.
Join Thrive Themes Affiliate Program
5. LeadPages Affiliate Program
LeadPages is a popular landing page builder and list building tool among bloggers and internet marketers. It has an awesome drag and drop interface and features like lead magnet delivery which make it sell faster.
LeadPages has an awesome affiliate program where you get 30% commissions every month after first converted trial. They offer 14-days free trial to new customers.
To make easier, LeadPages also host a weekly live webinar where you can send your visitors and earn a commission if they start using LeadPages.
You have an option to get paid via PayPal or direct deposit. They run their affiliate program through Impact Radius.
Join LeadPages Affiliate Program
6. TubeBuddy Affiliate Program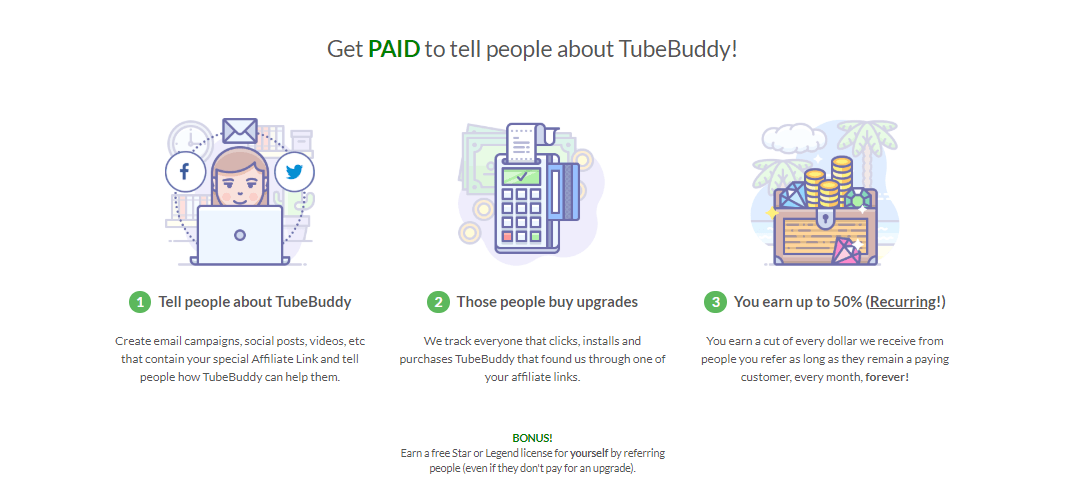 TubeBuddy is an extension for Chrome and Safari browsers that adds smart Youtube marketing features to grow to your channel. It is a free extension with paid plans.
TubeBuddy has an amazing affiliate program for YouTube users and non-youtube users as well. Refer 250 or more people to install the free extension and you'll be given a legend account on TubeBuddy, even if they don't upgrade to paid plans.
When someone upgrades to a paid version you'll get 30% recurring commissions for life! You can get your payments via PayPal every month.
7. Kinsta Hosting Affiliate Program
Kinsta is the #1 managed hosting for WordPress. What Kinsta offers is beyond thoughts in terms of security, scalability and speed. When you recommend someone to Kinsta, you can feel proud that are in the best hands.
Kinsta gives you an option to make recurring income by recommending their services through their affiliate program. When you refer someone to Kinsta, not only you can make up to $500 by single sale but you'll also get 30% recurring commissions every month.
They run their affiliate program through their own affiliate software, and it's pretty awesome. They pay every month and payouts are made via PayPal as of now.
Join Kinsta Affiliate program. 
That's all for now, these were the affiliate programs you can join if you want to make passive income for life. You would definitely want to know 3 tips to select the best affiliate programs for your blog.
Let me know what other programs you've joined and are doing great, and which one from this list you like the most.