Cloaking your affiliate links has a number of benefits.
Not only it saves your hard-earned affiliate marketing commission, but it also makes your links pretty good looking and branded.
From the last year, I have been seriously cloaking my affiliate links.
Doing so has saved me a lot of time and money. Every time I write a post, I don't have to worry about adding my affiliate links to monetize my content. Neither I need to remember the links, nor I have to log in to my affiliate marketplace to copy and paste these links into my content.
In this post, I will show you 3 WordPress plugins, I tried and tested to cloak my affiliate links.
1. ThirstyAffiliates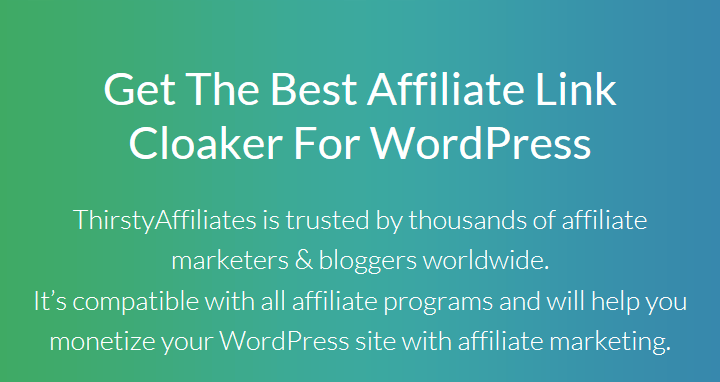 From the last year, I have been using ThristyAffiliates plugin to cloak and manage all of my affiliate and non-affiliate links on BforBloggers.
This plugin is actually the best in the market when it comes to features and performance. With ThirstyAffiliates, I don't need to leave my WordPress editor to find my links. All I need to do is to click on the plugin icon in the editor itself, search for affiliate link by entering the name and that's it.
ThirstyAffiliate also has a pro version with which you can easily automate the whole process.
With the automation add-on for ThirstyAffiliates, you can assign a keyword for every affiliate link you create. All you have to do is allot a keyword to a specific link, and ThirstyAffiliates plugin will link that keyword to your affiliate link. It also helps you to attach affiliate links to images.
Let's say I have a post on best WordPress plugins for performance optimization, and in it, I have written about the WP Rocket plugin. I have cloaked my affiliate link to WP rocket with ThirstyAffiliates, and I have also assigned this plugin to add a link to this keyword. Now, every time I write the word WP Rocket anywhere on my blog, My affiliate link will be attached to it without any effort.
I'm genuinely impressed with this plugin. The best part of this plugin is it's very beginner-friendly and easy to use. I have made a tutorial on how to cloak your links with ThirstyAffiliate Plugin, you should check that out if you choose this particular plugin.
Download ThirstyAffiliates Plugin
2. Pretty Links
Another simple plugin you can use to cloak links on your WordPress site is Pretty Links.
This plugin is much small when it comes to features, but for beginners, it's super user-friendly.
Pretty Links shortens and makes your affiliate links look beautiful (as the name already says). You don't get specific features such as categorization and slug management, but if you just need a quick way to make your link management system easier, pretty links work great.
This is a plug and plays plugin, you don't need to do anything after activating it on your WordPress blog. Simply enter your long, ugly link and give a name to it, and you are good to go.
Discover Pretty Links Plugin for WordPress
3. Easy Affiliate Links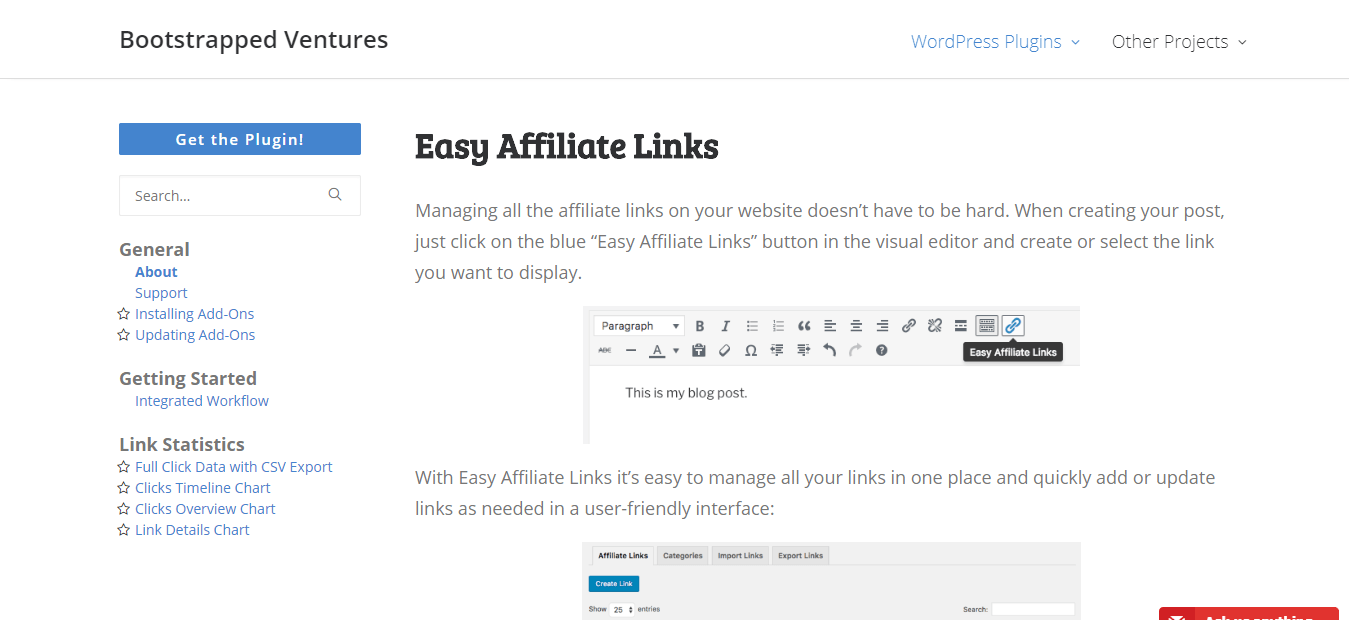 If you keep additional features such as slug selection and smart management aside, The Easy Affiliate Links plugin is the best option.
Easy Affiliate Links is a simple plugin which lets you:-
Create short links
Leave specific links uncloaked for Amazon Associates
Assign categories to your links
Tracking of clicks
Import & Export affiliate links from XML
The plugin is actively monitored, and if you are looking for any specific features, just ask the developer, and he might add it in the future!
Discover Easy Affiliate Links Plugin
Bonus (+1) Auto Affiliate Links
Although this list was about the 3 plugins, I couldn't keep myself from adding this particular plugin that is Auto Affiliate Links.
Auto Affiliate Links, as the name suggests, is a straightforward plugin that automatically cloaks adds the affiliate links to your posts and pages without you doing anything. The best part, It's free to use!
If you prefer to select your keywords and add your links manually, you can do this by going to the "Auto Affiliate Links" menu in your administration panel.
In General Settings, you can set if you want the links to be cloaked if you want them to be added into content your homepage or not and several other options as well.
If you use Clickbank, ShareASale, eBay associates, Amazon associates, Evanto Marketplace, Commission Junction, and Walmart to earn money from affiliate marketing, this plugin will become a boon for you.
If you use any or every given network, this plugin will automatically convert your keywords into affiliate hyperlinks. You don't have to worry about anything once you finish the setup.
I have written a detailed post on link cloaking, and its benefits, so make sure you check that out.
Affiliate links should be cloaked before being attached to any of your content. This will make sure no one can mess with your links and your commissions.
That being said, let's head on to our step by step process for cloaking an affiliate link.
Step 1: Install ThirstyAffiliates Plugin
ThirstyAffiliates is amazingly easy to use and beginner-friendly plugin that helps you to organize, cloak, manage, export/import, track, and attach image files to your affiliate links. Read the full ThirstyAffiliates review.
We have to install this plugin and activate it. This will help us to cloak our affiliate links with one click.
This is a plug n play plugin, so as soon as you have activated it, head on to the next step.
Step 2: Naming and Cloaking the affiliate link
This step is as simple as it sounds. If you look at the upper part of the image, you will notice a name section.
I have an affiliate link of Hostgator, and I will now enter the name Hostgator in the name section. This will help me to identify the link quickly I will be then able to add this link into my content easily from my editor.
Once you have filled in the link and its name field, click on the save link button. That's all. You can now proceed to add this link in your new as well as existing posts.
Step 3: Adding the cloaked link into your posts and pages
For adding the link you just cloaked, go to your WordPress TinyMCE editor. On the above side of your editor's header in visual mode, you can see a logo saying "TA" in green blueish color. Click on this element.
If you want to link your cloaked affiliate link to an existing word of your content, you can do so by first selecting the word and then hitting the ThirstyAffiliates logo on the editor.
The moment you click on the TA logo, a small window appears right above the text in the blank section of your editor. In this window, enter the name of your link, for instance, I have entered " Hostgator." This is the same link we just cloaked a moment ago in this tutorial.
Select the Hostgator from the suggestions as they appear as soon as you start to type the first few words.
Click on the blue arrow that appears at the right side of the window, as shown in the image above. That's all. The link is now attached to your desired text.
Additional Settings
You can also attach images with your affiliate links by click on the select image tab situated just below the save button.
If you know about how redirection works, you can also set 302, 301, and 307 redirections on individual links. For setting up the rule for all of the cloaked links, you can go to the plugin settings and change the universal redirections rule.
You can also Do follow, and No follow the links universally through these settings.
You can also categorize the individual cloaked links into specific categories. I strongly recommend you to do this from the first day. This will help you to stay organized in the future.
If you aren't satisfied with ThirstyAffiliates, there's another popular plugin that does the same job. It's is called Pretty Links.
To cloak affiliate links with Pretty Links, follow these simple steps.
Step 1: Download and install the Pretty Links plugin.
Head on to the short links by Pretty links homepage and get the plugin. Install and activate it on your WordPress blog and move to the next step.
Step 2: Open the Pretty Links new link dashboard
Open the Pretty Links panel and click on add new button. Here, enter the link you want to cloak and enter the name you want to give that link.
You can also change the redirection rule of the link. The preferred one is 301 permanent redirection.
That's it. Nothing more is required. The rest of the process remains the same.
Reports
Both of the plugins give you an opportunity to track the clicks on your cloaked affiliate links. You can check the report by going to the plugin panel and then the reports section.
The report shows you the chart of clicks you get on each individual links you can also analyze the chicks on one particular link of your choice at a time by entering its name in the search bar.
Both plugins work the same and it,'s up to you which one you choose.
If this guide has helped you, share it on Facebook and Twitter and if, you have any questions, ask them in the comments section below.