Recently, while looking for a managed hosting for BforBloggers, I found some of the best hosts including the one I had never heard of. latter one is Flywheel Managed Hosting.
In this review, I am going to tell you about Flywheel Managed Hosting, which has certainly some features and yet some Cons you need to know about. We will also talk about its alternatives which are standing like a wall in between.
About Flywheel
They have been serving some bug industry players who got fed up with Hosts like WpEngine and Pressidium. Since then, they provide us with a row of fully managed hosting plans.
Flywheel started in 2012 with a simple mission: to improve the lives of the millions of web designers and developers worldwide that build sites on WordPress. They're proud of what they have built so far – and that's just the start!
Flywheel Hosting Review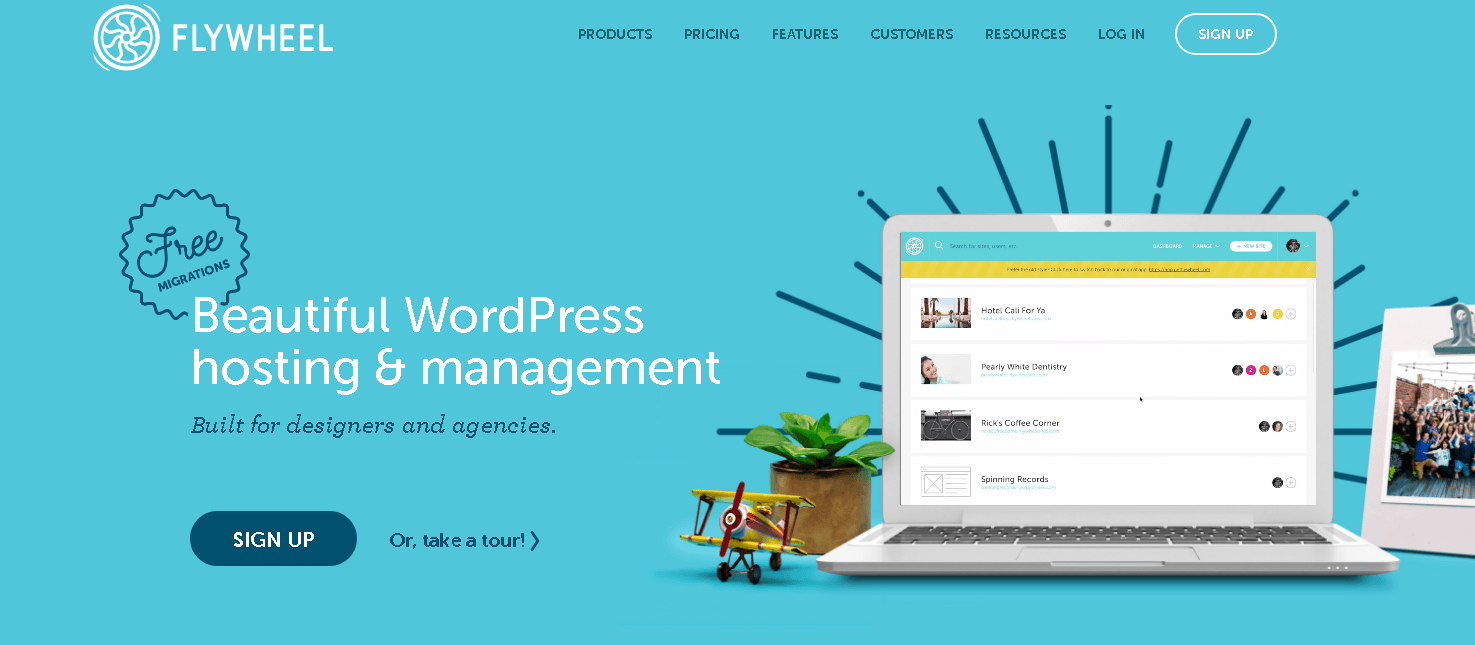 Flywheel has a tag line " Web Host for designers and developers". That pretty much suits them. I was a bit curious about what special they offer to designers and developers.
That's why I asked them for a free trial and generously, they gave me a special trial period offer to share with all of my readers. Claim your free trial now (no credit card).
These 14 Days of a free trial, I discovered some of the features that were too good to be true. Before I tell you about those, have a look at their core features:-
Features
Tuned for WordPress with server-side caching
A beautifully designed user interface
Free migrations (no matter how many sites you have)
No overage charges (!!!)
Transfer billing to your clients
One-click staging sites
Free SSL certificates powered by Let's Encrypt
All clients are on VPS (not shared!) servers
Expert WordPress support, available 24/7 for emergencies
Free demo sites for 14 days (build it, then bill for it!)
Solid security and malware monitoring
Nightly backups stored off-site (and one-click restores!)
Easy CDN integrations (Choose MaxCDN)
Impressive uptime, Upgrade your plans anytime
Reimagined SFTP (one login!)
Simple collaboration tools
Access to error logs, access logs, and slow error logs
Built-in site stats
A choice of 12 server locations
NGINX  (faster than Apache)
Payable via PayPal (no credit card required)
Claim your free trial on Flywheel >>
Brief Description For Special & highlighted Features:-
Collaboration
This feature is quite awesome for those who have multiple administrators, Executives, SEO managers, etc. Working on their blog.
With this feature, you don't have to share your passwords with anyone. Simply add them to your collaboration list.
Website Blueprint
Make your website. Add Plugins. Customize its appearance. Make different outlooks. Try Different features. Finally, you are done making your website.
Now what? Save this as a blueprint to build your site in minutes. Either for yourself or for your client. No setup needed.
Staging Environment
With Staging technology, you can create an undercover replication of your current website.
In this environment, you can check new themes, plugins, and coding to ensure everything is fine before deploying it in the real world.
Free Demo Site (Exclusive Offer)
Before moving to flywheel you may be skeptical about their performance and capability. To ensure your site remains as it is, You can get your websites (All of them) migrated to the flywheel for free.
You can then test the demo site and if everything works fine, you can completely move on to Flywheel.
Pricing
The Basic plan, which is the cheapest flywheel can offer starts from $15/month. This isn't very competitive, we will talk about the competitors in a second.
The Basic plan includes Staging but No CDN. They charge $10/month for adding a Cloudflare CDN.
They have 1- Click WordPress Install and allow you to have  5,000 Monthly Visits, 5GB Disk, 250GB Bandwidth and SSL (included).
All of the servers are VPS and not shared. You get a custom self-structured Control panel instead of old C-panel. From this place, you can add users and manage your websites.
The Control panel is very beautiful and beginner friendly. The built-in site stats toolbar helps a lot for beginners who find google analytics hard to understand.
Frankly speaking, The price isn't very competitive.  The alternatives given at the end of his page are much more cost efficient and provide a hell lot of features when compared to Flywheel.
However, they don't charge for overage. You should choose flywheel if you too hate WpEngine for its high overage charges.
Support
The support is quite extraordinary. They are extremely supportive and provide expert solutions to almost any query. You can get the solution to any problem raised within an average of 10 minutes.
Alternatively, for instant help, you can always opt for 24X7 chat service. This is a big plus point of flywheel over alternatives like WpEngine.
The executives are experts, not rookies and respond promptly. I have seen WpEngine users struggling for better answers.
Who Is It For?
As they quote " Hosting for designers and developers" they certainly mean it.
With custom cache solution and that extremely supportive website builder tool they are a gem for designing miners.
Read:- Three best cache plugins
You get a tuned for WordPress server with amazing speed and reliability with a handful of experts to guide you to your success.
Also, the agencies can partner with flywheel and bill their clients through their brand. This is what they call " White Lable" Relationship.
Competitive Alternatives
The Flywheel is great when it comes to managed hosting providers but it is not standing alone. Neither it dominates nor it tries to.
The Alternatives like  Kinsta And Nestify Along with WPX hosting and pressidium makes it harder to choose between flywheel.
I would definitely rate Flywheel above WpEngine. They provide better service and support. But still, WpEngine is veteran and more popular than flywheel.
Kinsta is residing on a very high level than any other managed hosting provider in the industry. You cannot get better service at $30/month. They provide top-notch support and extremely well-sustaining servers which guarantee an uptime of 100%.
Nestify also dominates flywheel with their cost-effective plans starting from as low as $7.99/month. They also let you host email accounts and give you a free CDN which is missing in the flywheel. Read our Nestify review.
WPX Hosting and pressidium are the other two alternatives to consider.
Conclusion
Should You Choose Flywheel as your host?
It's quite hard to tell you. I know you want the best and that's why I won't misguide you.
With so many other hosts available and that too high on features, I won't suggest you choose flywheel. But yes, if you are a developer who builds websites for clients and you seriously want a local development environment, consider Flywheel as a cheap solution for you.
Here's a 2019 update – I've come across many bloggers and developers who complain about Flywheel's lame support. Check their support in your free trial period to understand if they are the right fit for you or not.
If you look forward to a more powerful server with extremely great speed, choose Kinsta.
If you look for more scalability with great support, choose WPX hosting or Kinsta
Let's not underestimate Flywheel, you can always claim the free trial and check their performance.
Hosted by Flywheel? Do share your experience in the comments section below.