Fiverr is a giant marketplace or more specifically a portal, where you will find various freelancers willing to provide you exceptional services at a low and yes, meager cost.
Read:- What is affiliate marketing.
On Fiverr, you will find online services such as web designing, content writer, SEOs, coders, graphic designers, Facebook/Twitter header creators, vocal artists for videos, WordPress developers, and many more.
Only the sky is the limit.
But do you know about their affiliate program in which for referring services Fiverr freelancers offer, you can earn a commission on every new sale.
Fiverr recently updated their affiliate commission plans by introducing the hybrid commission system. The hybrid system means you'll get a fixed commission on every sale plus a 10% recurring commission on every sale made by your referrals.
In this post, I will show you the necessary steps on how you can join the Fiverr affiliate program. I will also tell you some pro tips to maximize your affiliate earnings.
About Fiverr

As I Told you above, Fiverr is an online freelancer portal.
You can find various online enthusiasts and skilled people to solve your marketing and online problems. You can get a customized logo, theme, you can get your WordPress blog set up, or you can hire someone to write on your blog.
Everything that Fiverr offers makes it a giant that can sell itself. You just have to refer to customers. Eventually, they will find the service they were looking for.
Q. How to join their Affiliate Program?

Step 1
Go to the Fiverr Affiliate Registration page. Fill Out The form as shown below:-
Use your original and valid e-mail and make sure you add your skype id. This will help you connect your affiliate manager more quickly.
Fill out all the details correctly and click on reCAPTCHA to verify. Click on the submit button.
Now your application will be reviewed depending on the situation. Sometimes you may get direct approval, and sometimes you don't. Don't worry, they aren't very hard on blogs, and they approve very quickly.
One more thing, to join Fiverr as an affiliate, you need to have a relevant website or blog that dedicated to providing tips, how-to guides, etc. On online services. It's not like Amazon affiliate.
Step 2

If you have been approved for Fiverr affiliates, now it's time for adding affiliate links on your website. To find this link:-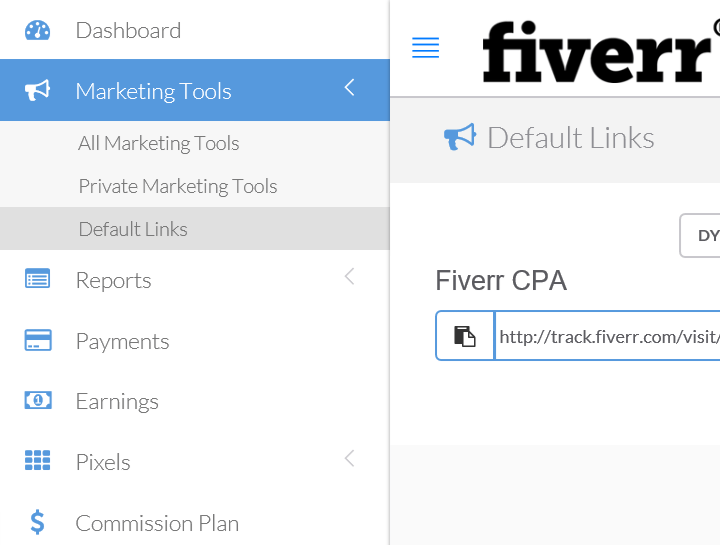 Login To Your Fiverr Affiliates dashboard and Go to the Menu. Find marketing tools option and from here, click on the default link option. This window will show you the default link you can use to drive visitors to Fiverr.
Make sure you go to the account settings and add your PayPal or Payoneer account to make sure you receive your payments without any delay.
Pro Tip:-

Always remember to cloak your affiliate link with a link cloaking plugin. You may read our guide on why you need to cloak your affiliate links.
We recommend ThirstyAffiliates plugin for link cloaking and management (Read Our Review).
When you have successfully completed the whole procedure, it's time for you to earn money.
Here are my 5 tips to help you perform better:-
1. Link Maximum services you can. For example, if you write an article about a logo and about its benefits, you may link to Fiverr rather than a logo company like 99designs.
2. Link your writing skills. You can use Fiverr to link an article and giving credit to a paid writer at Fiverr. This can be done in E-mail Marketing.
3. Suggest people take professional help. Fiverr freelancers are really skilled. Not all of them, but yes, the majority. Motivate your reader to opt for professional advice rather than being a rookie.
4. Write a Review about Fiverr. Not everyone is aware of Fiverr. You can write a review about it to attract a large number of people.
5. Make a mega list of services. This is quite hectic but an extremely great way to earn the maximum Fiverr can offer. Make a mega list of various services that freelancers provide so that people can get what they are looking for more quickly.
Read my Mega list of blogging tools and services for inspiration.
*Commissions Are paid for every sale.
For example –
"You referred a person to Fiverr for any SEO or Web Speed Service. He then selects a Fiverr freelancer to work on his SEO as well as Facebook page and coding".
In such cases, you will get the commissions from every sale. All three of them
Read- 5 Best Affiliate Programs For Bloggers.
Read:- Misconceptions About Affiliate Marketing (Revised)
Hopefully, you have got the success in joining Fiverr affiliates. I have tried my best to explain to you the most essential factors.
Do share this post on Twitter or Facebook and share your experience in the comments section below.