E-Mail Marketing Has Evolved As A key To Make more engagement and Consistency In Blogging, But it has also become a Great way to promote your Products, offers, and New Resources.
Is it Effective? Does it worth the investment & Effort it takes?
Here's Everything You need to know about it.
It's an easy task to set up New post Notification mailing list through Plugins and services like GetResponse, Aweber, MailChimp and JetPack.
Some people, I don't know why but still use Feedburner.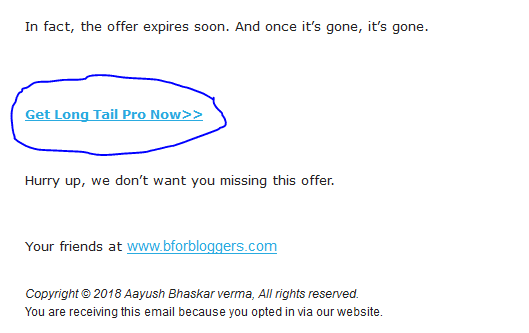 With the word marketing being added to the email, its all about monetizing your list. You are actually marketing your product or affiliate products or services or anything that can make you money through your list. Your list is your asset.
The Chances of Purchasing Recommended products Increases In E-Mail Marketing When Compared to Direct Blog Posts. It also helps You To Increase Your Brand Value as People Get Consistent and Fresh Articles Straight Into their Inbox.
Mailing List
A mailing list where all the emails of your subscribers, leads contacts etc. go and stack up. Basically, you collect emails in your mailing list (also known as email list).
A mailing list can be created in an email marketing service you choose.
Without this list you have nowhere you collect, organize, tag, segment, manage and keep a record of your leads. So, you should have an email list prepared before you start collecting emails from your website.
This is what you will use to reach thousands for people who use the internet at a single time to broadcast your blog updates, promotional emails, product launches and etc.
This is where all your subscriber's information is stored.
How to Begin Collecting Emails
Getting more lads and adding more subscribers to your list has no overnight formula. Staying consistent with your strategy and content to attract more visitors to your posts can help to get more opportunities to convert more people into your subscribers.
Start by using some of the WordPress plugins to create and show optin forms on your blog.
You may also, include ethical bribe to get more, better leads faster.
Content upgrades are also one of the few ways which are proven to give outstanding conversion rate. It's easy and you can Learn how you can make a content upgrade for your posts.
There are many free lead generation tools as well that are great for anyone to get started with lead generation on a much faster scale. You can also look at some of the best lead generation plugins available for WordPress that makes our life easier.
Where You Should Start
There are many great email marketing options available but generally, a beginner might feel a bit overwhelmed with them. To get started, I would recommend:
All of the above three are very beginner friendly and pretty cheap. If you would like to get started for free, choose MailChimp or MailerLite, (read Mailerlite review first)
First Step Before Getting Any Subscriber
You should create an autoresponder. This will help you build instant trust and connection with your subscriber. If you used a lead magnet, this will also work to deliver it to your first subscribers.
Writing An email Isn't A very Hard Thing to do. You get used to it and Seasoned with every email you write. E-Mail marketing is must to do marketing strategy for anyone. Sooner or later, the results will amaze you.
As a beginner, this is all you had to know about E-Mail marketing.
I hope you have got an idea about this clearly. Every blog owner should implement e-mail Marketing as soon as possible. Trust me its the best way to engage your Audience.
Starting Your Email List From Ground ZERO
You are new to online marketing. You've learned what email marketing is and you wish to start from level zero.
I'll help you out.
Not only that, but I will also show you how to get your first (and more subscribers) in your list with smart optin forms, lead generation techniques and tools.
Even if you are just beginning to establish your online presence, your blog and your business,  collecting emails of your visitors is the smartest thing you'll do of which you'll see the results in future.
Why Email Marketing Is Important For Your Business
Your list is your asset.
Email marketing is seriously one of the best ways to build a foundation of your future online business. You need to act fast and create your own mailing list so that you can collect our visitor's emails from the very beginning.
Email os the fastest way o reach and educate your visitors about any new products you release, new blog post you publish, new events you are going to speak at and almost anything. Its the fastest way to connect with them.
Less than 20% of your website visitors will come back and more than 80% of them will never look back.
Each of the visitors that comes to your website reads your blog content is a potential buyer or an affiliate customer.
Turing them into your email subscribers is the best way to keep them with you for longer.
Over the time if you keep building your list, you will have a large audience who trust you, follow you and keep running your business no matter what happens to your website.
List building is a smart way to keep all your eggs out from the same basket.
#1 Sign Up For An Email Marketing Service
The very first thing you need to have is an email marketing service (EMS). Without it, there's no start.
An EMS will let you:
Create forms to collect emails
Create an email list
Collect email subscribers in that list
Manage your email subscribers
Delete emails from it
Send emails to your subscribers
Create autoresponders to automatically send your campaigns
Tag your email subscribers, create segments, structure a pipeline, drip, and funnel marketing (We'll get to that later)
You'll discover how you can do many more things once you pass out that learning curve of your first email marketing service or software.
The best email marketing service is ConvertKit.
ConvertKit makes email marketing tasks easy for anyone and that's why I recommend it to every beginner.
Plus, You can get started with ConvertKit free for 30 days.
It is powerful and as you start to grow, you won't have to look for another EMS, it will scale as your business will. It has been created for marketers and bloggers and just because of that it is actually a lot easier to use it.
Once you signup for ConvertKit, create a new list. Name your list and save it.
#2 Create An Autoresponder
You will have to create an autoresponder, an email that your subscribers will receive automatically as they subscribe.
It very important that you welcome your subscribers as soon as they join your email list because it helps to immediately build a personal relationship with your subscribers, an important factor for online business.
The first impression is the last impression so don't just send anything in your first welcome email.
Here's exactly what I send in my welcome email:
Hi,

It's a pleasure to have you on my insider's list. I am Aayush Bhaskar and I'll be with you for the rest of your blogging journey.

I try to teach everything I've learned so far.

Meanwhile, while you wait for my second email, why don't you hit reply and reach me with any problem you may have.

I'm able to connect with more than 2000 people through email. I would love to see you take a step further by joining my:

I'll be waiting for you.

Here's what you've got as a gift for being my loyal subscriber

(The resource I promised)

Download it if you haven't yet.

I'll be reaching you with more awesome tips to help your business grow out of the crowd. Don't hesitate to reply to this email anytime you need help.

Cheers,
Aayush Bhaskar
An autoresponder isn't fixed to welcome emails. It is about building your brand and generating sales with automation. Too few emails to your subscribers and they'll forget who you are, too much of it will make them annoyed.
ConvertKit has an awesome set of automation workflow templates. You can pick any of it so you don't have to guess and build it from scratch.
You can send anything in your autoresponder sequence including:
Blog post updates
Affiliate product promotions
New updates about your business
New tools or product you launch
Send a few emails a week and create an autoresponder for at least a week ahead. If you plan to sell online products from your blog, I recommend you to set up a blog sales funnel right away.
If you do it now, it will save you from future headaches.
#3 Get A Powerful List Building Tool
The next thing is to get a powerful list building tool.
A list building tool is what you'll use to create optin forms, lead flows, and subscription forms to display on your blog or website.
If you use WordPress, here are some of the best lead generation plugins and best optin form plugins for list building. There are also some of the free lead capture tools to choose from.
However, the best one you can choose is Thrive Leads for WordPress and OptinMonster for other CMS including WordPress.
Only these two tools are identically powerful enough that let you create multiple types of optin forms and trigger them with advanced targeting options.
Head over to this post to see how exit intent and slidein popups increased my conversion rate without hurting the user experience.
#4 How To Grow Your Email List Fast
Now that you have got a good list building tool, you need to convince your visitors to optin or subscribe to your email list.
Generic "get weekly articles in your inbox", "subscribes to get updates" and "Subscribe to free email notifications" don't work. Not anymore.
You have to give them something in return.
You have to bribe them to join your list by using an "ethical bribe" or the lead magnet. These are known as optin or lead incentives that you give your visitors as a free gift to join your email list.
Just like I do by adding my HubSpot playbook and affiliate marketing strategies ebook in my optin forms as an incentive.
Sometimes my conversion rate goes as high as 10.7% and on posts, I have an average of 6.52%:
How?
Using content upgrades on few of your cornerstone content you can increase your conversions and reach above the industry average. Start using any of these techniques and watch your mail list grow fast.
To connect any tool with your email list, you'll have to enter your API in the integration settings.
In ConvertKit, go to your account info to find and copy your API key.
Using your list building tool create an optin form. Use popups, on-click popups and slidein optin forms on your website and include any of these incentives in it right from the beginning.
Landing pages are also a great way to grow your mailing list faster. You can easily create a landing page in 5 minutes.
You should also read how to capture leads in ZERO budget.
#5 Put Your Optin Forms On These Places
Not every area on your blog is best for your optin forms. Your visitors should be able to see it so that they can subscribe through it and you have to make sure it is as easy as possible.
Here are some of the best places to put your static optin forms:
Your homepage featured section
Your about page
Your footer area
Below content area
between your posts (inline)
Now the static forms you create should be in contrast to your theme color.
Some of the best types of optin forms I've seen so far are:
Popups
Slideins
Page takeover
And there are numbers of triggers to choose from. When your optin form appears has a direct and huge impact on your conversion rate. Here are some of the best trigger and optin form combination I've come up so far:
Popup + 35% scroll
Popup + Exit intent
Page Takeover + 20% scroll
Slidein + Immediately
Page Takeover + Exit intent
This optin forms with the trigger settings next to them have given me the highest conversion rate in different A/B split test.
Wrapping It Up
You've made it – Congratulations! Now watch your list grow day by day.
Now you know starting and building an email list is not as hard as it looks. It is neither scary nor something you can't. It is not even that time taking. If you like this, you would also want to learn how to track email signups using Google anlytics.
I hope you've found this guide useful and easy to understand. Shere this and let me know your first experience in the comments section below.