Blogging is defined as providing Informative Articles On Selected Topics And Niche. In a more simpler form is the articles you write On Any Online CMS Platform, preferably WordPress.
Needless to say,
Blogging Is done on a blog made by you or some others (In form of guest posting and Collaborations).
A Blog is essential to start blogging. Your blog works like an online directory of posts you write in it. This Blog is accessible from the internet throughout the world.
Blogs were made to share thoughts, Ideas, Helpful guides, Information and much more. Blogging became more and more famous as the years passed and technology rose.
The connectivity ocean, The internet and it's low costs gave a hike to its overall growth. A few years back when the internet was expensive, Broadbands were absent and tech gears were not widely available, blogging was seemed to be a pure part-time.
This isn't True these days though. With the rise of the internet, it's cheap rates, Easy access to Laptops and PCs have given blogging a tag of "Full-time career".
Q. But How did the internet & Tech served in This growth?
Smartphones and Laptops are now widely available with the cheapest rates possible. Due to which people can easily purchase and adapt to its uses.
More the new people join the internet, more the queries in the search engine will increase. Search engines don't publish their own articles, they look for the answers in blog posts and web pages.
This uplift in the number of queries has given sustainable growth to the health of blogs and the bloggers.
You see, without users, there is no blog. No blog, no information, no information no results to show and then what?
End of search engines and so for the internet.
Blogging is nowadays considered as a full-time job and a career for youth with knowledge and skills.
Blogging is just like your Permanent job with some good sides of its own. Some of them are:-
You Are Your Own Boss
Your time is yours
Your office is where you imagine
You don't have to wait till 1st of the month for the pay cheque
You work the way you like, No Bars.
That's just a small list. Starting A Blog and Blogging may be the best thing ever happened to you. You can live the life you want to. 
That was the fair side. While blogging Makes you feel the more you, it is not going to work for everyone the same.
With the growth of the online industry, Blogging has become one of the top competitive jobs. Every day, There are Thousands of people who start their own blogs. Every second a post is being published and more are being while you are reading this post.
The number of people being online has been rising significantly, their expectations to receive more quality has also grown.
This happened because of the number of overall bloggers around the world. The numbers are getting more and more each day, and every blogger is not capable of providing quality content. 
That's why quality is given priority over quantity. Both by Search Engines and Users. Creating articles which are not so informative and useless is also known as content farming which is bad for SEO.
So You should keep this point in mind that creating your web presence on the internet is not an easy task these days. It takes months and years to shine among the others.
No Need to worry about above said you can start a blog if you have passion, dedication, and Will to do something. Success awaits you.
You are at the right place if:-
You want to know about a perfect domain name
You want to learn about what's web hosting
You want to know about the best blogging platform
If you want to start your own WordPress blog
And if you want to make money out of it
Let me show you how to start a blog that will help you showcase your talent over the web. This free guide will walk you through a step by step tutorial which will lead to an outstanding professional looking blog at the end.
Let's get started.
Before heading to WordPress installation and other technical things, you should know about at least three things that will help you in future to better handle your blog and it's growth.
The first thing you need to know about is "Web Hosting".
What is Web Hosting
The web host is where your whole Blog resides. When you purchase a hosting plan from a web hosting provider, you are given a server where you can store your files, images, content and other data. Without it, there is no web and no websites. It's the most important aspect while starting a blog and you need to make sure you have the best one.
Read this article which tells you about What is Web hosting in details and it's different types as well.
The second thing you need to know about is "Domain Name".
What Is A Domain Name
A domain name is a specific name you want your IP address to be called with. Whenever you purchase a web hosting plan, you are allocated with a specific IP address either shared or dedicated. When you link your name server with this IP, that's where the domain redirects anyone who tries to access it from a browser.
Read This post which tells you about what is a domain and how It differs from web hosting.
Now, We need to move one step ahead which will pull us closer to the most exciting part.
Choosing And Purchasing A Domain Name
As far as the purchase part is concerned, You can have a free domain forever as well. Yes, you don't need to purchase your preferred domain name as the web host we are going to signup for will be giving you a free domain forever.
It will cost you somewhere between 12 bucks for purchasing a domain name from registrars like NameCheap and Godaddy. Save your money for good.
The best web host to select as a beginner
By every means, it is BlueHost.
Bluehost gives you the best available price for shared hosting services. I strongly recommend you to go with them as they are the best host available for any beginner. For all of my amazing readers, Bluehost has given me a special discount of 60% on every plan to share with you. 
All you have to do is click on any of the BlueHost links in this guide which are affiliate links. That will give you a 60% discount and a free domain.
Now, we will start our step by step process of starting to end which includes:-
Purchasing a web hosting plan
Registering a Free Domain
Installing WordPress
Customizing the WordPress stock
Giving a professional touch to our blog
Here we go!
On this page, click the green get started button.
Step 2. In this step, you will have to select a plan based on the budget you have.
Among all the three plans available, the best for you will be the prime plan. It has unlimited website space, website spam protection, malware protection, free marketing credits, domain privacy and other highly recommended and helpful features.
Click on the select button and move on to next step.
Step 3. Choose, enter and get a domain name for free.
Bluehost gives you one domain name for free, so, on the second page, you will need to enter your preferred domain name with the extension. A .com domain extension is preferred. It should be short and memorable.
Keep in mind that your domain name will be your brand, so, think of a name that is brandable and unique.
Enter your domain name and click on the next button.
Step 4. In this page, you are going to enter your personal details as well as the payment details.
I prefer to pay via PayPal rather than paying via credit card. You can click on the more payments options button and pay via PayPal as well. Click on the submit button and proceed to the next step.
Step 5. The moment you complete your payment, Bluehost will ask you to set a password for your Bluehost hosting control panel.
Click on the create your password button.
On the next screen, you will have to enter your desired password. Choose a password which is hard to guess and consists of at least two special characters and numbers including upper and lower space letters. Once you have created a strong password, click on the next button and move on to the next step.
You'll see a screen like this, confirm your registration for Bluehost hosting account.
Step 6. Bluehost is a WordPress core optimized host and WordPress comes pre-installed
For your convenience, WordPress comes preinstalled on your server starting from 2018. Here on the next screen, you will have to select a theme for your new WordPress blog. I recommend you to choose Sydney or Hestia theme as they both are highly customizable and SEO friendly.
Once you select a theme, you will see the start building button your site button on the next page. Click on the button and proceed to next step.
Step 7. Bluehost will welcome you and Now, your WordPress installation is active.
But your site is not live on the internet. On this page, WordPress will ask you to choose the type of the website you want to create. if you would like to create a business website that is owned by an organization and will serve as a company resource, choose business.
If you want to create a WordPress blog which will be used and maintained by you and you would like to share your opinion, talent, and views through it, you should click on the personal button.
Then,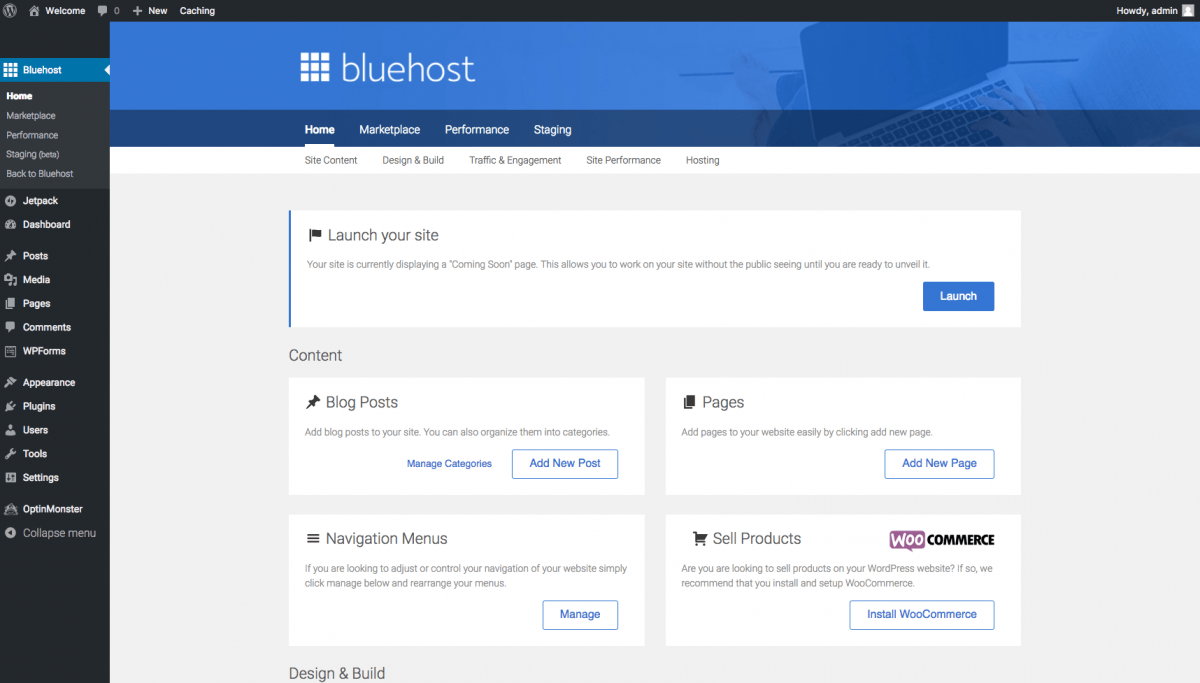 Step 8. Currently, your WordPress blog will be showing coming soon page.
This means that you can build your blog, design it, install the plugins and so on without showing your users. I recommend you to leave it as it is. Let's do some basic customization and settings after which we can launch our blog and make it go live!
Here's how you C-panel will look, Bluehost calls it BlueRock C-panel.
Basic Settings and Customization After WordPress Installation
Here, I have exactly demonstrated the 3 basic settings you need to configure. The very first thing you need to do is deleting default posts and pages.
Go to posts menu and here click on the all posts menu. There is a default post from WordPress with tile hello world. All you need to do is click on trash to delete it.
Similarly, go to the pages and comments section and delete the default pages and comments with the same procedure.
Now, we need to change the permalink structure. The better your link structure is the better will be the user experience and SEO.
Go to settings and click on permalinks section. Change the day and name to post name. Click on save.
Now, We have to update our ping list. Head over to the post where I have posted the updated ping list with a tutorial.
Tha's all, Congratulations, your blog is now live. You can access your WordPress dashboard anytime by going to the link
"http://www.yourdomain.com/wp-admin"
Replace yourdomain with your original domain name.
Here are few helpful "How-to" guides which will make you an intermediate blogger in few weeks:-
Here are a few WordPress plugins for your every need:-
To make your WordPress blog more SEO friendly, Read these:
And few guides on better blogging:
And a few guides on making money from your blog (yay!)
And now, here are a few advanced level guide:
Phew!
Read the following guides and soon you will be able to handle all your blogging needs. WordPress isn't very hard to use and if you face any issues with your WordPress blog or if you need to ask anything, Don't hesitate to contact me, Its free and I reply to every email  I receive.
I Hope this was helpful and Thanks for using this guide. Don't forget to share this on your favorite social network. Feel free to ask anything in the comments section below.
Subscribe & Get Access To ALL Resources
Subscribe BforBloggers list to download 50 evergreen content ideas, 10 blog post templates, 21 ideas to convert your visitors and a 19 paged printable and repeatable blog planner